Perfecting your gaming setup is somewhat of an art. It's often personal to you, depending on your own tastes and style, and it's not always easy to perfect straight away.
Whether you're looking to level up your current gamestation or are just getting started, there's a few things you need for the ultimate setup that will keep you in good stead for the next gaming session. And who knows, it might even make you a better gamer…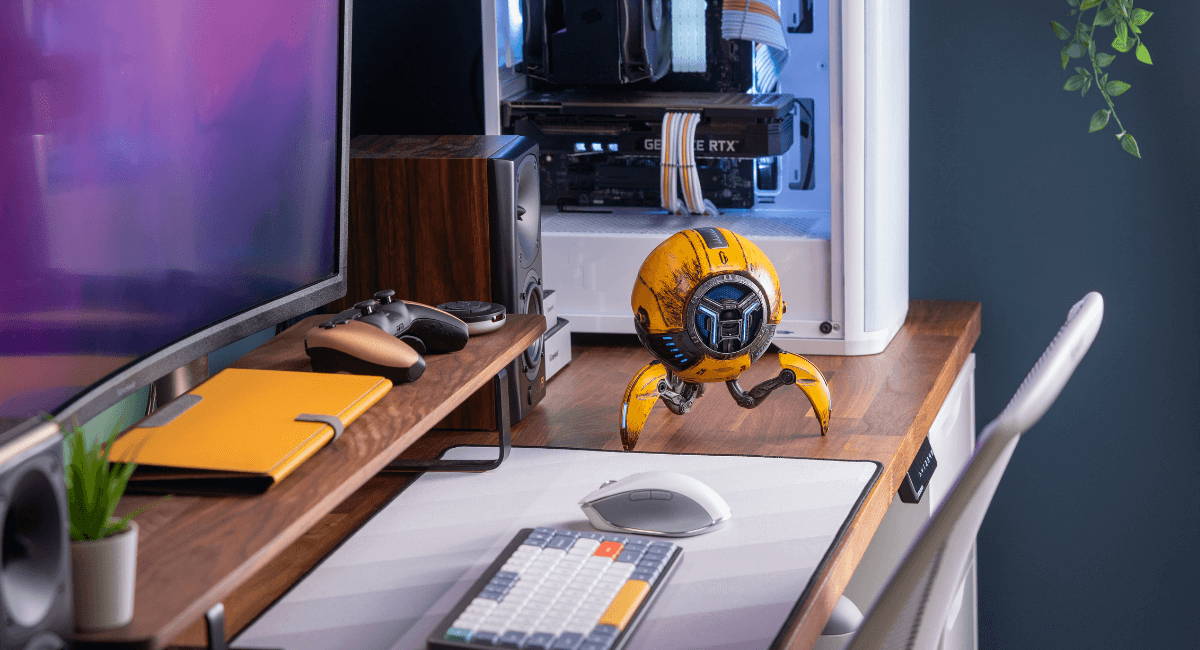 For any serious gamer, a powerful PC is a must. A good gaming PC should be decked out with a powerful cooling system to prevent it from overheating during long sessions, as well as a good graphics card, impressive RAM and a top quality processor. You may even want to look for a PC with VR capabilities.
For a good gaming experience, it's recommended that the RAM be anywhere between 8 and 16gb. Intel processors are generally seen as the best for gaming, as these tend to have the most power, allowing for higher detail and increased frame rates. Because of these, Intel processors tend to be better for VR gaming as well.
With powerful cooling, impressive RAM and an Intel processor, the Corsair VENGEANCE i7200 Gaming PC is fan-favorite amongst gamers.
It's probably indisputable that the gaming graphics are meant to be seen. Alongside speakers that can immerse in the world of your favorite game, a monitor that can completely absorb you is the key to losing yourself in another reality. When embarking on your journey for the perfect monitor, there are a few things to consider.
While the largest possible screen size might be tempting, it's important to remember that with gaming monitors, you will be closer to the screen than you would if you were merely watching your favorite TV show. Screen sizes between 24'' and 27'' will allow you to see your game in all its entirety – meaning there won't be any blindspots that could impact your gaming.
With your monitor, you'll also want to look at the refresh rate. This essentially tells you how quickly your monitor is updated with new information per second. Typically, you will want a monitor with a refresh rate of 75Hz as a minimum, but as a rule, the higher the refresh rate, the better.
You will also want to consider the panel display technology on your monitor. Many gamers opt for monitors with IPS panel technology, as they have a quick response time and a good color output – which is of course important for seeing your game in all its glory. Gigabyte's G27Q model has IPS panel technology, an impressive response time and a screen size of 27'' making it an ideal choice for gamers.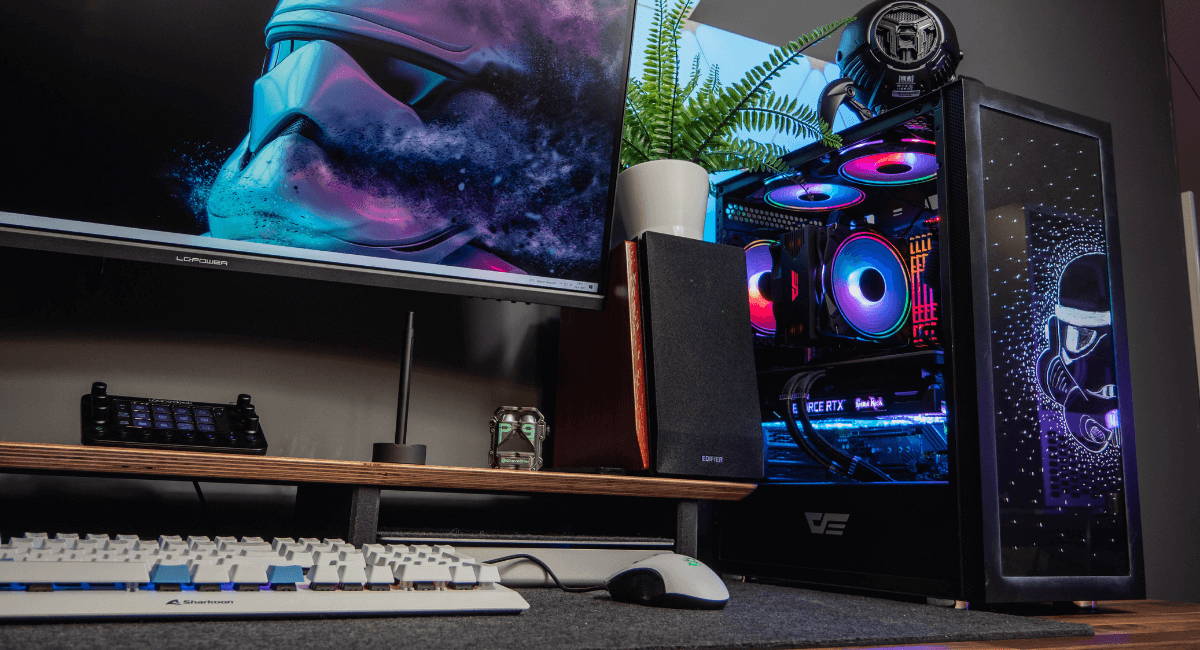 To really lose yourself in the fantastical realms of your favorite game, immersive speakers are a basic necessity. Without a good speaker setup, you can miss many vital elements of a game that allow you to become fully submerged within it. Gunshots, character conversations and soundtracks are all important to the story of a game, and without a good speaker setup, you are denying yourself the full experience.
Look for speakers with a long battery life that will see you through hours of gaming. Speakers with Bluetooth 5.0 use reduced power without compromising on audio quality, meaning more hours of uninterrupted playing. You may also want to opt for speakers that compliment the vibe of your gaming setup. Speakers with a unique design approach and other aesthetic features like RGB lights will bring your space to the next level (and will look great on your next Twitch streaming session).
GravaStar's Mars Pro speaker features Bluetooth 5.0, RGB lights, 15 hour battery life and an output power of 20W, making it ideal to completely lose yourself in your game. Gaming speakers are best of in pairs, which allows you to create a surround-sound experience – and luckily GravaStar's wireless speakers can be synchronized for a fuller sound.
Can a keyboard affect your gameplay that much? Whatever style of keyboard you opt for, no gaming setup is complete without it. The ultimate gaming keyboard will enhance your gameplay, whilst also complimenting your setup.
There are two types of gaming keyboard to choose from: mechanical and membrane. Mechanical keyboards work via dedicated mechanical switches under each key. They tend to be a gamer's keyboard of choice, as they are tougher, more tactile, and more precise. Comparatively, membrane-based keyboards have a layer of rubber under each key that acts as a spring. Due to this, they tend to be less accurate – and in the gaming world, accuracy is a necessity.
Keyboards with RGB back lights not only look the part, but they also promote better gaming. Styles with adjustable lighting will allow you to light up the areas – or even the keys – that you use most, acting as a quick visual aid in moments of gameplay.
Keyboards such as Cherry's G80-3000N RGB TKL are a great choice that won't slow you down in life-or-death moments.
And what's a keyboard without a mouse? For the ultimate gaming setup, you'll need a mouse that will comfortably sit in your hand and won't slow you down in important moments.
With gaming mice, there are two types to choose from – ergonomic and ambidextrous. Ergonomic mice are designed to mold to the shape of the hand, with specific grooves for your thumbs. Ambidextrous mice have a symmetrical shape that can fit in either hand. Both are equally suitable for gaming, but you may have a preference on what's more comfortable.
As well as comfort, you will want a mouse that won't slow down your gaming. Look for a mouse that has a sensor with a high DPI (dots per inch). The higher the DPI, the more the cursor will move per inch, meaning you'll have accurate gameplay and won't miss any vital targets.
One option is Razer's DeathAdder V2 mouse. It's made to curve comfortably around your palm and has an impressive sensor for quick gameplay.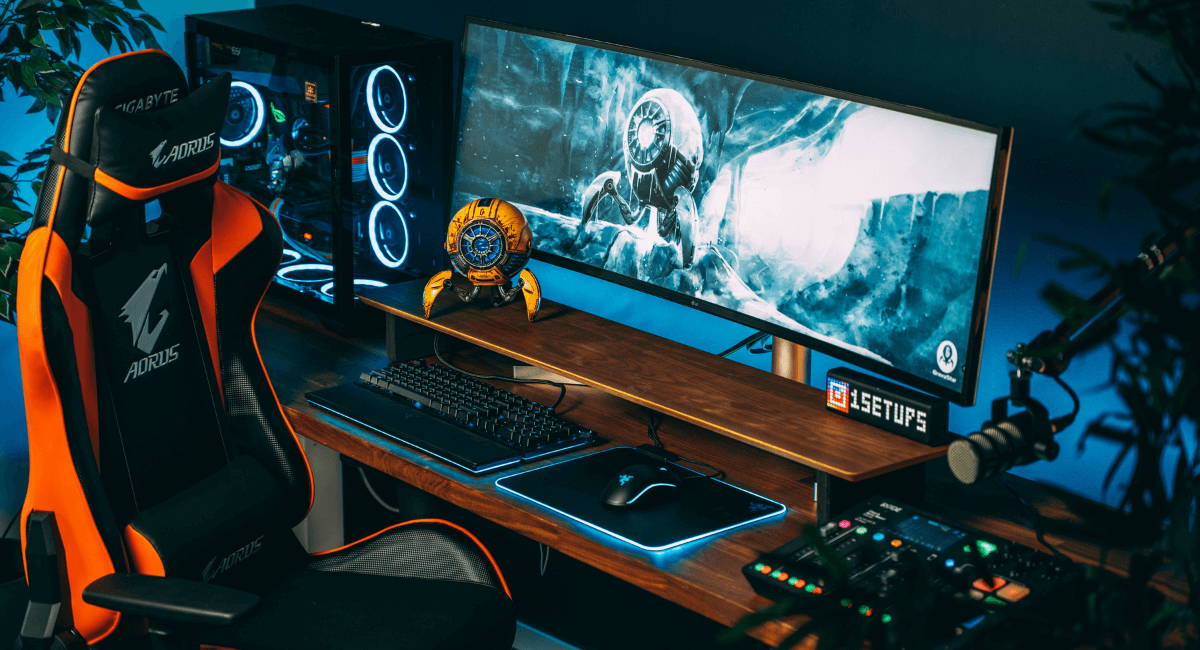 6. Earbuds built for gaming
You may be wondering why you need speakers and headphones, but when building your game setup, you need to think of everything. If you want to game with other players with uninterrupted audio, a good pair of earbuds is the way to go.
When making your purchase, look for earbuds with environmental noise cancellation (ENC) that will allow for clear communication between players. ENC earbuds block unwanted sounds and allow for players to hear other players voices without additional distractions. They also tend to have better sound quality and improved ear protection.
Other features such as digital signal processing (DSP) audio algorithms will allow your earbud speakers to isolate the audio you want to hear, creating a powerful bass and surround-style sound.
GravaStar's Sirius Pro earbuds are a great option. It has gaming mode and the latency is around 65ms, enable you to hear all steps and the shots. Featured Knowles balanced armature, proprietary DSP audio algorithms, an ENC mode, as well as Bluetooth 5.2.
The ultimate gaming thrones combine aesthetics with functionality, so you can comfortably play Elden Ring for hours on end without disruption. Afterall, the last thing you want is a chair that's going to become uncomfortable, or even cause you back problems.
First and foremost, look for chairs that allow you to adjust the armrests and seat, and have a good recline range. This will allow you to find the perfect position for gaming that won't cause you aches and pains. Typical gaming chairs are ergonomically designed to offer as much support as possible, but if you really want comfort, look for chairs with additional headrest pads and lumbar support – especially if long gaming sessions are on the cards.
The Secret Lab Titan Evo 2022 series is up there with the best, but there are plenty of options on the market to suit your taste and budget.
While we've gone through the all important tech side of things, it's important to make your gaming station as relaxed of an environment as possible. Because we all know that sometimes gaming can be the exact opposite.
Take inspiration from some of your favorite gamers. You can incorporate gaming merch, wall art and other collectibles to make your gaming space a place you can completely feel at home. After all, your gaming setup should be relaxing and reflect your style, especially if you plan on spending a good portion of time there.
Want to start leveling up your gaming space? Shop the GravaStar Mars Pro and Venus Bluetooth speaker series.
SUBSCRIBE TO OUR NEWSLETTER
Recieve our latest weekly releases, offers, guides and more.