As for the Zoeao's GravaStar itself, there's not a lot to unpack: It works as a single Bluetooth or 3.5mm aux-in wired speaker, or it can pair with a second one for True Wireless Stereo (TWS). There's no mic for calls, though, and it's not a smart speaker. Inputs are on the underside of the device, including the aux-in and a fast charging USB-C port. Both cables are included and have a nice fabric mesh exterior, but they do come up a bit short at just around 3 feet long each. The company claims its battery lasts up to 30 hours, although I haven't had a chance to put that to the test yet. When the charge gets low, you should see a flashing light (on the rear, opposite the Bluetooth connection indicator) as well as a vocal prompt.
On the outside, it's a desktop decoration with futuristic cool, a zinc alloy shell and decent heft at 3.5 pounds. The speaker grill area and multiple zones on the top, back and legs radiate a green light (which can be turned off and on via a rear button). It's bright enough to work as nightlight or provide ambiance when the lights are low. It's just bright enough that you can see the nearby workspace and find your drink, keys or whatever. It's definitely not bright enough to handwrite your next novel by, though.
The robot's legs fold in halfway when needed to help keep them safe if you're moving the speaker around the house or taking it on the go. And if you are leaving the house, it has an IPX5 rating so a little rain should be fine. The design also allows you to tilt the speaker by folding a leg or two, if that suits your needs. And each foot has a small bit of padding to help protect surfaces.
On top there's a touch-sensitive volume control, which is also backlit with a green glow. It's a convenient way to adjust levels, especially if you're using it wired via the 3.5mm aux-input through a secondary device that handles the audio (like a monitor). The touch sensitivity is decently responsive, and the surface illuminates lined segments to indicate level.
The speaker's three control buttons live on the top rear portion of the speaker. These control power on/off, Bluetooth or True Wireless Stereo (TWS) and a toggle for the green lights on the device. The Qualcomm QCC3006 chipset lets the speaker connect to two devices at once using Bluetooth 5.0. That particular function key is mainly used for connecting a second Bluetooth device or using TWS to connect to a second speaker. Otherwise, the GravaStar is always in pairing mode when it's turned on. Audio prompts confirm when you've successfully connected. The range, for a single device from the source (in this case a smartphone), is about what you'd expect from a Bluetooth speaker. Inside a home, I managed to get a good 50 feet around a corner or two without a problem.
When it's searching for a Bluetooth device, you'll see a small light panel on the rear right side flashing. If you're not connected to the speaker you'll always have this small flashing light in action, which can be little distracting.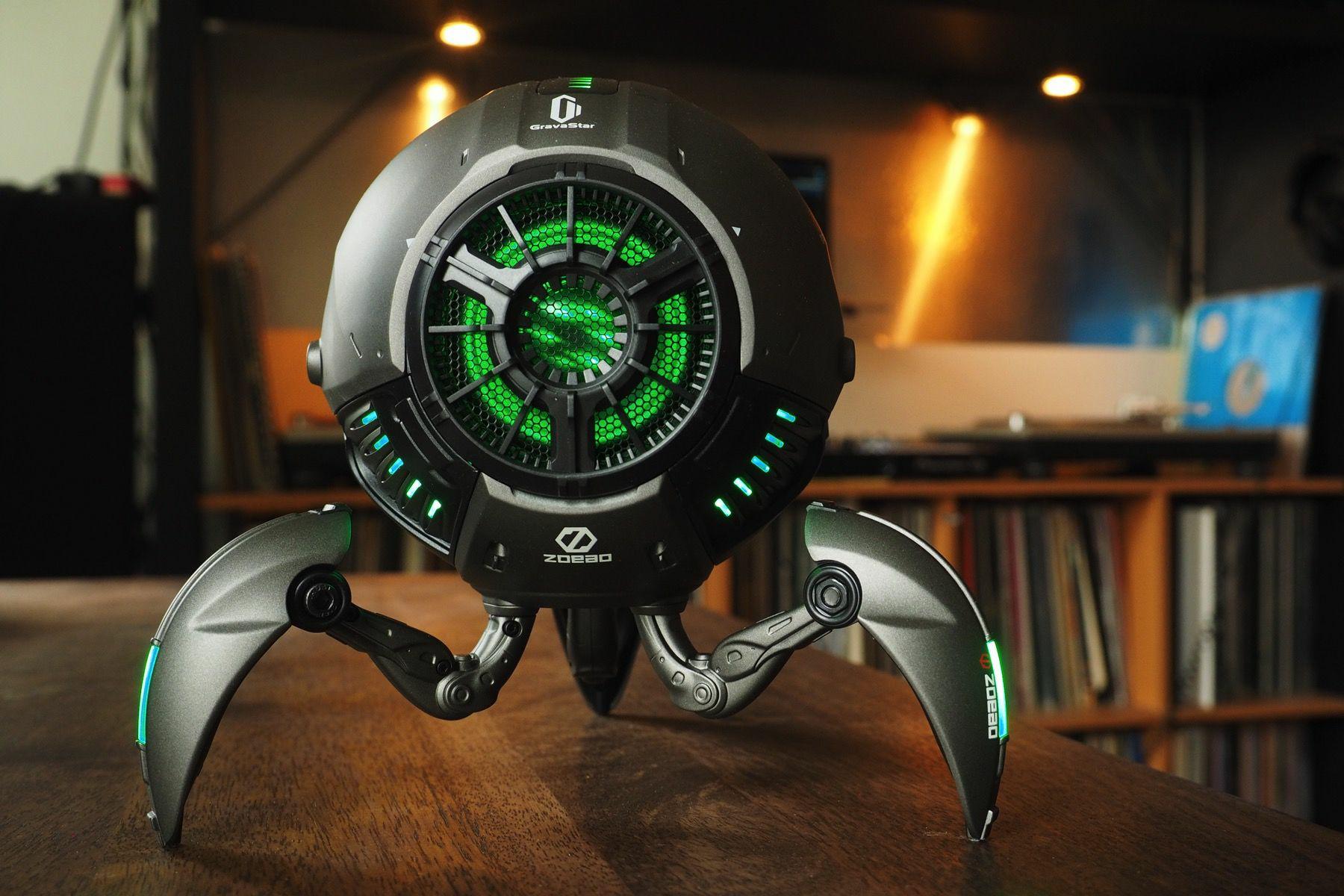 The 3.5mm aux-input overrides any Bluetooth connection when plugged in, and I've found that if you remove that input, the speaker quickly jumps back to any nearby device that was recently connected. If you get two GravaStars for a stereo experience, Bluetooth and TWS is ideal. Otherwise, using a single 3.5mm mini jack output, you'll need to get a channel splitter for left and right. Also, in this mode you'll need to manually adjust the volume for each speaker, at least to even the levels out.
The audio components include a 70mm (2.75-inch) full-range speaker from Harman Kardon on the front, with a bass diaphragm of polyphenylene composite and a metal magnetic core on the back. The Qualcomm chip runs the show, along with a TI 3118 amplifier to pump out 20W. For its relatively small 5.5-inch diameter, this speaker can pump out decent sound levels. As computer speakers, a little distance seems to improve the sound experience for me when they're cranked up, and angling them away from the center point (for example, your computer chair) seems preferable since it's a front-throw speaker only.
I don't have any similar front-facing Bluetooth speakers for lying around, but I did match it against the UE Megaboom 3 ($199), JBL Link 300 ($200) and the older UE Boom 2 ($100) for a comparison with existing products. These are mostly designed for 360-degree sound, so it's worth noting that the output isn't quite the same as the GravaStar. Essentially, both the JBL Link 300 and Megaboom 3 are bassier and a bit louder, with clearer representation of subtle sounds. They're also both physically larger, with the JBL running two 25W speakers and a larger bass diaphragm (although it's not portable). The UE Boom 2, however, falls short of the GravaStar's output.
Sadly, I couldn't properly test the TWS sound experience, since I only had one of the final models. I did somehow manage to get it paired with the earlier version that had a lesser components. As is often the case, two or more Bluetooth devices can really fill a room and offer a spatially immersive sound. The contrast in quality between the two was noticeable, though, which reinforces the company's decision to upgrade the internals.
All that said, the GravaStar speaker is decent and provides a respectably loud, clear and thumpy output for its small speaker size and shape. Plus you're getting more than just a speaker. Its futuristic design and lighting accents make it feel a bit more like a shelf-top collectible and discussion piece. For those who dig its style, I'd recommend it based on my short time with it.